Alloy steel is steel that is alloyed with a variety of elements in total amounts between 1.0% and 50% by weight to improve its mechanical properties.Echo Machinery is available for martensitic blow bar. Martensiticblow bar is mainly used in recycling and primary crushing field,like crushing concrete with reinforced iron.
Technical specifications:
Material name:Echo Plus Martensitic
Hardness: HRC55-57
Features: Good toughness with low risk breakage and around 1.5 to 2 times of wearing lifespan than high manganese material.
Customised Echo Plus martensitic blow bar is available.
Echo Machinery is reserching the ceramic insert blow bar with university material laboratory.
More infomarion, shown on ceramic insert page or contact us info@echomachinery.cn
Echo Machinery is the spare parts store for all your plant equipment needs. All the spare parts provided by Echo Machinery are backed with the ISO 9001 Certificate and shipped only after passing our quality control procedures. The sales teams at Echo Machinery are ready to help you with a quote and to check the inventory. Our engineers would like to answer your technical questions. Talk to Echo Machinery about your specific needs now!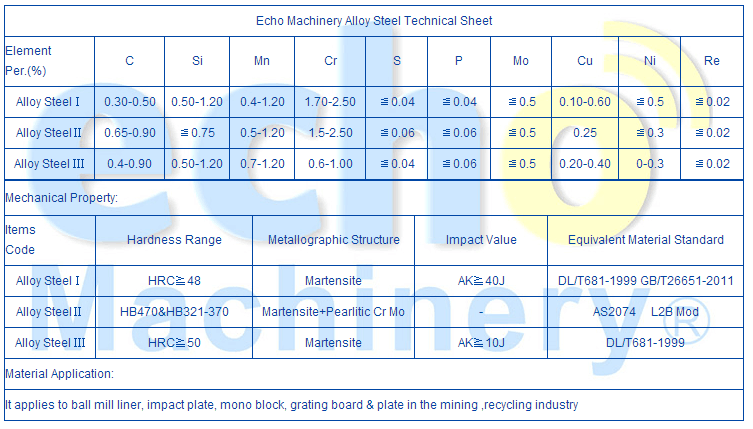 For more information, you can email us info@echomachinery.cn