Echo Machinery Replacement Parts for Eagle® Impact Crushers
Eagle Crusher Company Incorporated is a worldwide leader in the manufacture of a complete line of heavy-duty impact crushers, portable crushing and screening plants, jaw crushers, cone crusher and conveyors for the concrete, asphalt and recycle markets. Eagle products ranges from portable impactor plants, crushing & screen systems, secondary impactor plant, UltraMax® impactor etc. Echo Machinery offers qualified Eagle impact crusher spare parts.
Echo Machinery is the spare parts store for all your plant equipment needs. All the spare parts provided by Echo Machinery are backed with the ISO 9001 Certificate and shipped only after passing our quality control procedures. The sales teams at Echo Machinery are ready to help you with a quote and to check the inventory. Our engineers would like to answer your technical questions. Talk to Echo Machinery about your specific needs now!
Eagle Impact Crusher Blow Bar Model:
Eagle 500, Eagle 1000, Eagle 1200, Eagle 1400 and Eagle Inner 4048
Eagle Impact Crusher Layout Drawing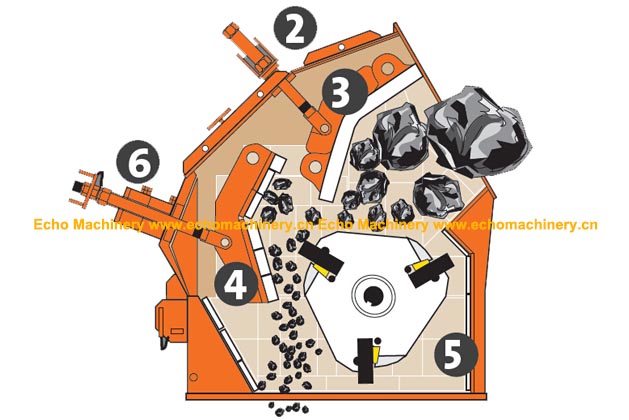 Eagle® is a mark of Eagle or its affiliates. Echo Machinery is not an authorized repair facility nor does it have an affiliation with Eagle. These terms are used for identification purposes only and are not intended to indicate affiliation with or approval by Eagle. All parts are manufactured by, for and warranted by Echo Machinery and are not manufactured by, purchased from or warranted by the original equipment manufacturer.